Christian Kjellvander official website
About Love And Loving Again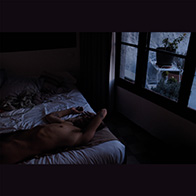 Right from the crescendo that welcomes you in before it drops away into an atmospheric landscape, the voice at its centre so quietly intense he may as well be singing inside your own head, Christian Kjellvander's new solo album undeniably feels like a big record. The seven songs on this gently unhurried long-player are allowed to build and meander, make unexpected turns or even pause to look over their own shoulder before moving on, four of them ending way beyond and one just shy of the seven-minute-mark. It comes as a bit of a shock then to learn that this sound that ranges from almost-silence to unbridledly expressive, widescreen hugeness was created mostly as live by a minimal three-piece line-up in a Stockholm studio basement:

- Per Nordmark on drums
- Pelle Anderson on a Fender Rhodes, a Prophet 5 and a Korg Prologue
- Christian Kjellvander on vocals, guitars and whatever came to hand, adding just a touch of bass at the end of two songs.

It...
More info »
Upcoming shows
No current headlines at the moment
News Headlines
No current headlines at the moment
Read the news »